Whether you're tired of the shabby appearance of your old car paint or you've recently had body repairs done that necessitate a new paint job, Tom's Auto Refinishing & Collision is here to help. Providing complete car painting in addition to our body shop repairs, our experts can help your car look beautiful long term. When you want car paint done right, you want to give us a call. Pick up the phone today and get your free estimate!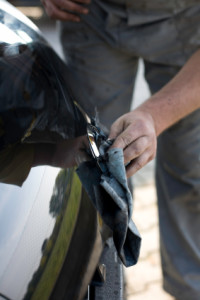 At our car paint shop, we make certain the job is done right the first time. That means no shortcuts and no cut corners. When you entrust Tom's Auto Refinishing & Collision with your car paint job, you can be fully confident in results that will last. We complete every paint preparation step meticulously, and we take the time to prime and sand as necessary. Only when we're sure the color will adhere thoroughly and correctly do we put on the final coats of automotive paint. From the initial masking and paint prep steps through the color and clear coats, our experts specialize in precise, flawless car paint. So why settle for less? Call Tom's Auto Refinishing & Collision to get started.
Automotive painting isn't a job for DIYers or amateurs. Frequent mistakes include improper surface preparation—leading to incomplete paint adhesion—drips, streaks, bubbles, and runs, all of which look ugly and can lead to rust and other deterioration down the road. So rather than trying to save a buck by tackling your car painting project yourself, get the job done right. Our car paint shop will make certain you get superior outcomes and an auto paint job that looks beautiful and can protect your vehicle for years and years.
Our team is available to perform automotive painting for cars and trucks, and we can handle full repaints as well as touch-ups and body repair painting. That means whether you need a complete respray or a post-accident repair, Tom's Auto Refinishing & Collision is here to help. In fact, for seamless, gorgeous results, we can match practically any paint. Instead of settling for a car paint job that looks fine, opt for automotive painting that looks fantastic. Contact our car body paint pros for results that speak volumes. We're here to bring you top-quality automotive paint outcomes!